Pittsburgh to Cumberland, the Classic GAP Trek
This nearly 150-mile itinerary takes you end-to-end on the Great Allegheny Passage from Downtown Pittsburgh to Cumberland. It's oriented from west to east, to give you the benefit of tailwinds and the fun of the 23.7-mile downhill coast from the Eastern Continental Divide to "mile zero" of the GAP at Canal Place at the end. Of course, you can start in Cumberland and finish at Point State Park if you like. Either way, with daily distances of 30 to 40 miles, this schedule gives you time for leisurely lunch breaks, exploring, and picture-taking. It has the benefit of overnight lodging options in guesthouses, inns, or bed and breakfasts each night. Both Cumberland and Downtown Pittsburgh feature great restaurants, breweries, distilleries, special events, river views, paddling, museums, art galleries, and all kinds of fun to celebrate the end of your trip. Amtrak's Capitol Limited makes this trip easy to pull off. You can leave your vehicle at either end and return by train in the opposite direction.
Day one takes you from Downtown Pittsburgh past Pittsburgh's South Side and through Homestead and the region's historic steel-manufacturing communities. Stop at The Pump House to learn about the 1892 strike and lockout that marked a terrible turn in the industry's management-labor relations. This stretch follows the mighty Monongahela River, crossing it twice, once on the Hot Metal Bridge and once on the Riverton Bridge. At McKeesport, you'll pick up the Youghiogheny River and travel past the Red Waterfall and Dravo Hiker-Biker Campground before ending in West Newton, where several dining options and bed and breakfasts await.
Wake up in West Newton, enjoy a fresh treat from a local bakery, and head east. You're tracing the route of the old Pittsburgh & Lake Erie Railroad for the morning, and passing through Cedar Creek Park and a series of former "patch towns" that once supported the region's coal and coke manufacturing. Look for remnants of the beehive-shaped Connellsville Coke Ovens before you reach Connellsville, the perfect place for lunch. Rest for a bit at Yough River Park, just past the Connellsville Gateway Arch. Explore the town, which features delightful murals, Victorian architecture, and one of the original Carnegie Free Libraries. After lunch, continue east, entering the deep forest canopies of Ohiopyle State Park for the next 16.9 miles, now on a corridor that once carried the Western Maryland Railway. Once you're in Ohiopyle, find your evening lodging, pick among the various dining options, and go check out Cucumber Falls, among the park's most recognizable features.
On day three, continue east within Ohiopyle State Park along the nine original miles of the GAP, completed between 1978 and 1986, until you reach Confluence, where the Youghiogheny River is fed by Laurel Hill Creek and the Casselman River. Confluence is a lovely town and a perfect lunch stop among many of its dining options. If you like, take a side trip to gaze over the Youghioheny River Lake and Dam above town. Once you're ready, get back on the GAP and push east over a lovely stretch of trail, across the Pinkerton Low and High Bridges, through Rockwood, and across the sweeping Salisbury Viaduct. Stop in Meyersdale for dinner and a good night's sleep at a bed and breakfast or inn.
Your last day launches from Meyersdale and heads east over the decorative iron Bollman Bridge and through the Big Savage Tunnel. Check out the views into four states from the eastern portal! From there, it's 6.5 miles to Frostburg, where a switchback studded with whimsical, bike-themed metal sculptures welcomes you to the business district, bisected by the National Road. There are plenty of options for lunch and opportunities to pick up a gift, ice cream, or coffee. From here, it's an easy 15.5 mile segment to Cumberland via a narrow cut in the Allegheny Mountains. Cumberland is perfect for dinner, locating George Washington's cabin, visting the Allegany Museum, or wandering the business and restaurant district with its murals and public art. Stay overnight, or return home if you must.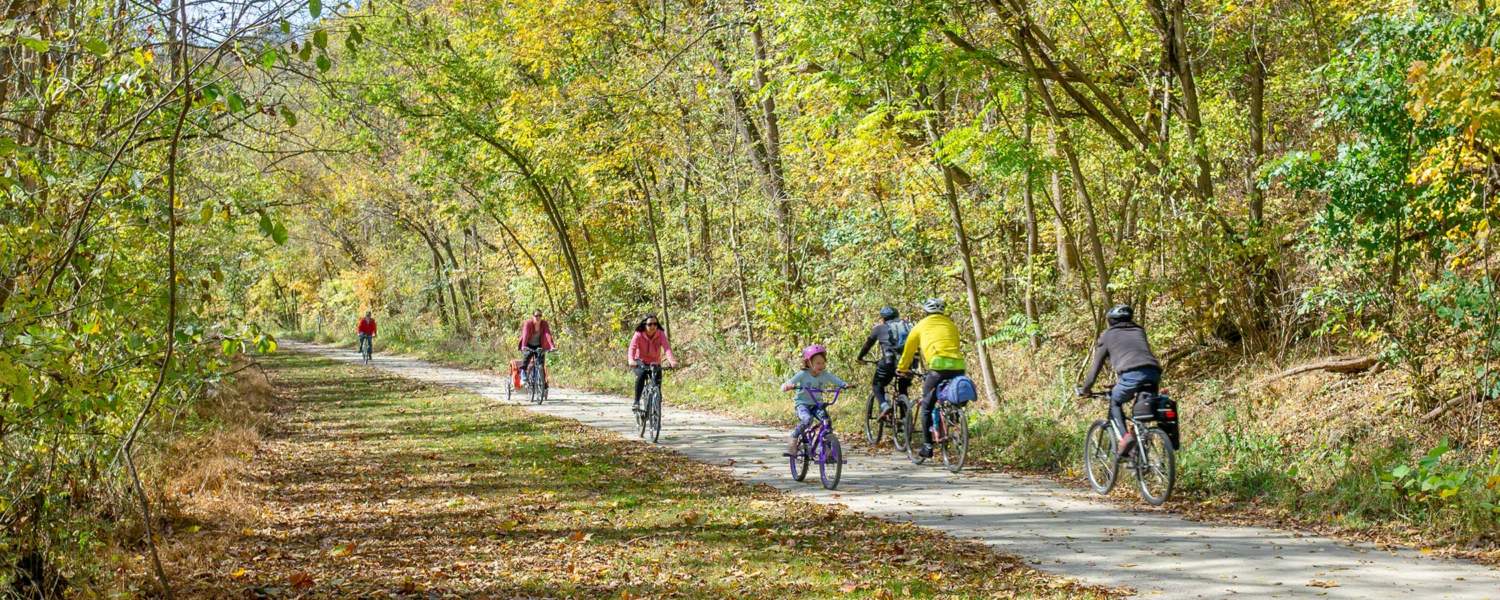 Plan a Day Trip
Explore a beautiful stretch of the GAP or C&O Canal Towpath!  Visit a trail town on one of these recommended one way or round trip circuits.
See All