An All-Time Bucket List Adventure
This 333.3-mile Pittsburgh-to-Washington, D.C. trip on the Great Allegheny Passage and adjoining C&O Canal Towpath is a popular week-long, long-haul trip, with 45- to 60-mile bicycling days. Whether you carry your own gear or hire a shuttle service, this itinerary is designed for staying in bed and breakfasts, inns, hotels, or guesthouses, and allows you leisurely lunches in trail towns, with plenty of time in the evenings to explore, relax, and recuperate. This trip is certainly reversible from east to west if you so choose. Reserve a ticket and bike slot on Amtrak's Capitol Limited for a convenient return trip.
Launch your adventure in Downtown Pittsburgh at Point State Park, home of the Fort Pitt Museum. Ride out of town along the Monongahela River, through Homestead and up and over the Whitaker Flyover and Port Perry Flyover, custom-built for the GAP. Continue through McKeesport (take a short road ride to see the fabulous rose gardens at Reinziehausen Park) and out to West Newton for lunch and a visit to the West Newton Visitor Center. In the afternoon, continue east past Roundbottom Hiker-Biker Campground, following the Youghiogheny River. Glide under the Connellsville Gateway Arch, and find your lodging for the night. There are all kinds of dining options, too.
On day two, order breakfast at the Connellsville Canteen, and hop on the GAP toward Ohiopyle. You'll be riding through the deepest gorge in all of Pennsylvania. In Ohiopyle, spy whitewater rafters from the Ohiopyle Low and High Bridges, or stop in the old Western Maryland Railway station. Continue 10.3 miles to Confluence for lunch and a short hike within the Joshua C. Whetzel, Jr. Recreation Area, from which you can see the entire town below. Afterward, head east again, proceeding through the Pinkerton Tunnel, and make your way to Rockwood, at the foot of Mt. Davis, where lodging opportunities await on both sides of the Casselman River.
After a good night's sleep in Rockwood, travel east through Garrett (at which the September 11 National Memorial Trail is being built to the Flight 93 National Memorial) and eventually to Meyersdale, Pennsylvania's maple capital. It's a perfect spot for lunch at a local diner and a look at the train exhibits at the Meyersdale Area Historical Society. From here, travel east over the curving Keystone Viaduct, past the Mason & Dixon Line, and to Frostburg and then Cumberland. Plan your overnight there.
On day four, pack a lunch from a local cafe and pick up the C&O Canal Towpath in Cumberland, continuing east. You'll pass through several small hamlets — Spring Gap, Old Town, and Little Orleans — and the famous Paw Paw Tunnel, the only such structure on the towpath, lined with some six million bricks. You'll ride over four of the C&O Canal National Historical Park's aqueducts, along the edge of Green Ridge State Forest, and your destination is Hancock, Maryland's first designated trail town. There are several dining and lodging options here, so stay the night.
The next day is your longest of this itinerary, heading east from Hancock. Along the route, you'll pass the Tonoloway Creek Aqueduct and Licking Creek Aqueduct before nearing Fort Frederick State Park. Enjoy lovely views of the Potomac River. Williamsport is an excellent lunch stop, and here, you can visit Conococheague Aqueduct and the Cushwa Turning Basin, both of which are filled with water and at which you can arrange a canal boat tour. After lunch, push ahead to Harpers Ferry, centerpoint of the Appalachian Trail and your overnight destination.
Back on the C&O Canal Towpath, day six takes you from Harpers Ferry eastbound toward Brunswick (pick up a picnic lunch here), then over three final aqueducts on your way to Great Falls Park, where the Potomac River tumbles over treacherous waterfalls. There are several beautiful footpaths and an interpretive trail here, worth adding to your lunch break if you have time. The afternoon segment takes you all the way into Washington, D.C., where you'll celebrate at "mile zero" of the towpath just past the end of Georgetown Waterfront Park.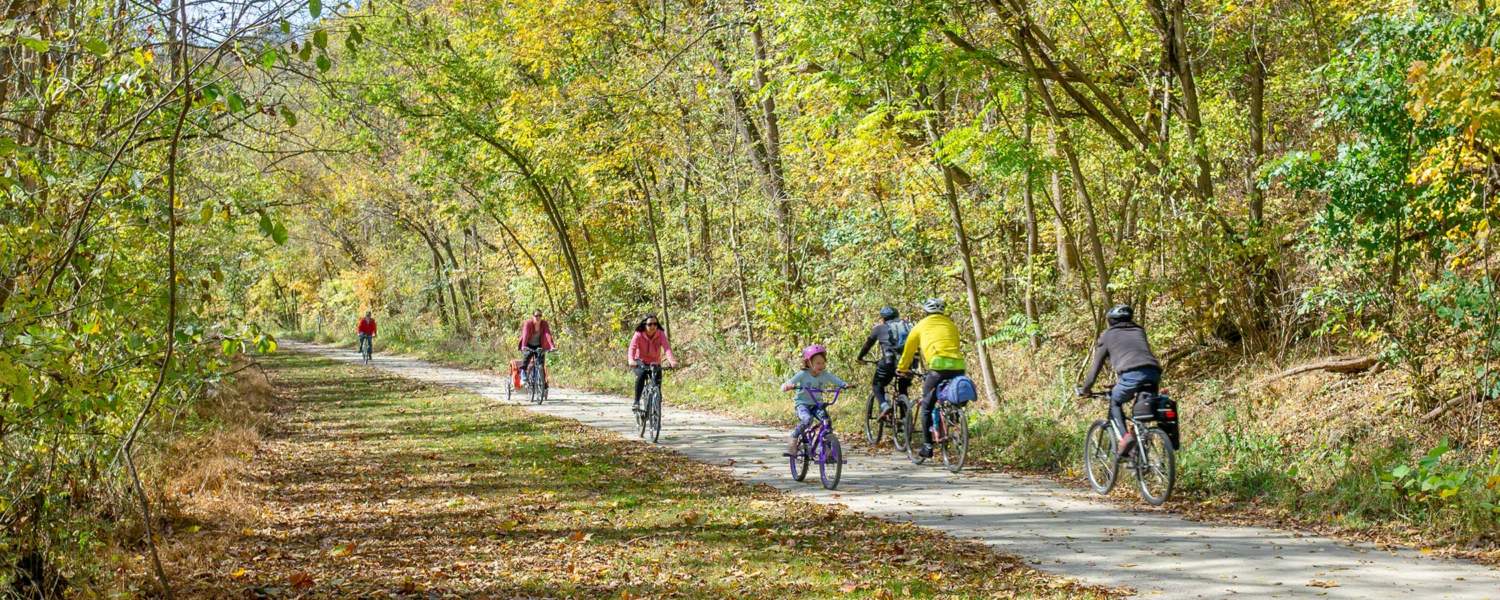 Plan a Day Trip
Explore a beautiful stretch of the GAP or C&O Canal Towpath!  Visit a trail town on one of these recommended one way or round trip circuits.
See All